Working for a glorious future with united efforts, opening a new chapter
Jan 21.2017
Drums and gongs wake up a new year, blossomed plum write a new passage of spring. On 21st Jan 2017, Shanghai Huatai hold her New Year ceremony Party in FengShouRi Hotel.
The year of 2016 has already gone, and we ushered in a new year. The New Year ceremony is made of 3 parts--the rewards ceremony, performing show by the workers and games, and started with an exciting speech, delivered by Mrs. Ding, the General Manager of Shanghai Huatai.

Mrs. Ding, the General Manager of Shanghai Huatai, appreciates the outstanding achievements and praises the hardworking workers during the past year, as well as the best wishes and a well hope for the future.

The dancing show, performed by the sales department.
Various interesting games, and elaborated presents
Annual Excellent Workers and Team Awards of 2016.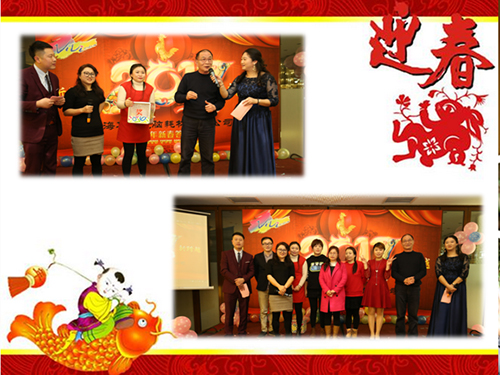 Photos of the Outstanding Award's Winner and Service colleagues.
The New Year ceremony party is ended in awards for the outstanding winner and the annual excellent workers.
The distinct youthful vigor and the strong company culture propose a demeanor picture as a big family in Huatai, as well as the enthusiasm and optimism of all workers in the New Year.
BACK