European HQ and other subsidiaries online visited Vivicolor
Nov 04.2022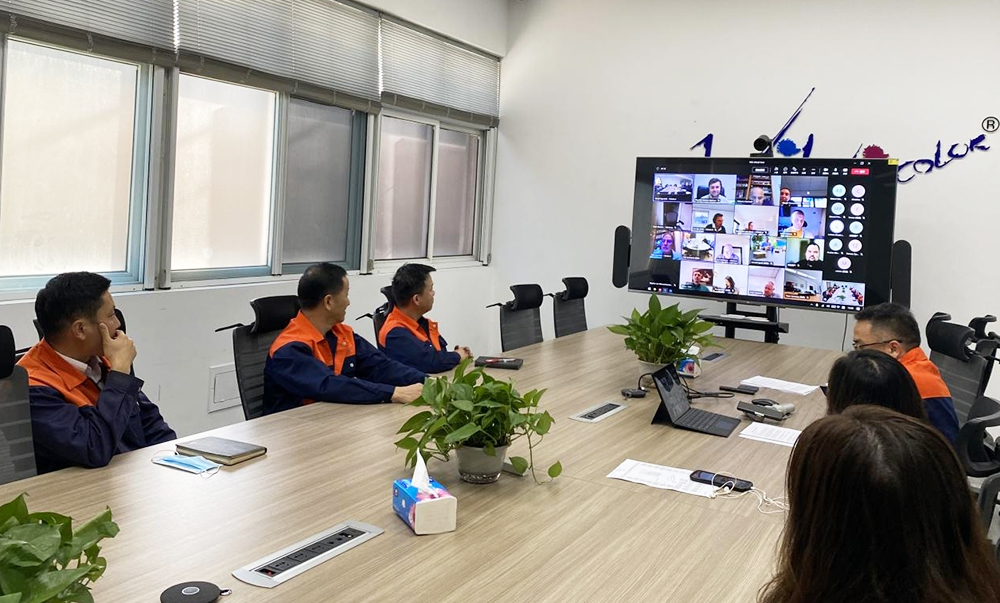 On October 25, 2022, company's European HQ and total more than 30 people from each subsidiary visited Vivicolor's Jiaxing factory by online video.
Due to the impact of the global pandemic, this is the first time for our headquarter and other subsidiaries to officially visit Vivicolor through online video since the company moved to Jiaxing Comprehensive Free Trade Zone in 2019. Frank Xu, General Manager of the company, and Christina Xia, Deputy General Manager, led the management team to carry out the video visit.
This video visit mainly includes three important aspects:
1.Present the company's corporate culture and management team.
Frank introduced the company's cultural wall, emphasized our vision, mission and values, and introduced the company's management team members and their responsibilities accordingly.
2.Introduce the production process.
Christina explained the whole process of ink cartridge remanufacturing from empties to finished products, and had an in-depth exchange with everyone on the difficulties in automated production due to our product feature.
3. Show our vision and sense of mission of environment protection.
Christina introduced thoroughly on the whole process of the company's sewage treatment system, including physical treatment, chemical treatment and biochemical treatment. After reaching the final standards, the sewage will be discharged into the public system.
The whole online visit lasted 3 hours and ended successfully. After the visit, colleagues from the headquarter and other subsidiaries spoke highly of the overall appearance and management level of the company. The recognition from the headquarter is a great encouragement and recognition to our existing achievements, which will further inspire all our employees to make more efforts, work together, and strive for a brighter future for Vivicolor.
BACK